Five.
(The number of times we've visited St. Maarten. I think.)
Two.
(The number of bottles of Guavaberry liquor I have stashed somewhere in Mom's liquor cabinet.)
Three.
(The number of St. Maarten magnets on my fridge.)
It's safe to say we know St. Maarten. We know St. Maarten in the way you know an old friend that you don't see often but hold fond and profound memories of. A first visit, when we found ourselves on one of the most stunning beaches I've ever seen. A third, when I spent nearly half a paycheck at Tiffany's celebrating a promotion. Small markers amongst a group of visits that nearly blend together.
This itinerary we were on had the misfortune of only carrying one sea day towards the beginning of the trip, which meant the day before we disembarked was a port day instead of a sea day, which also meant we had to find the time to pack in a day meant for exploration.
All was not lost, however, because thankfully, we were headed back up towards our old friend of Phillipsburg. We had discussed catching a cab to Maho beach (highest on my list of must-do's in St. Maarten), but with Stephanie coming down with something and all of us needing to pack in advance of an early afternoon flight the next day, we decided to wing it.
We were up around nine, already docked, and quickly got dressed and headed up to the Lido deck for a quick breakfast.
In the mood for a veggie and cheese omelet, I headed towards the made-to-order egg station, and the mystery that perplexed me of the long lines was quickly resolved: no one in the omelet line was ordering an omelet. They were ordering omelets – maybe for themselves, or maybe for their entire families. Maybe that's the trick – to take the orders of your companions and feed everyone at once (do you tip in pizza and ice cream on a cruise?). Those of us ordering for one got the short end of it with a longer wait, but I wasn't in a rush. And that omelet, with the soft crunch of fresh vegetables and the strings of gooey cheese was well worth the wait.
After we were full and caffeinated, we made our way down to deck zero to debark. There are two ways of getting into downtown Phillipsburg: you can take the water taxi from the end of the pier ($7 for unlimited trips or $5 one way), or you can walk the decently long trek. Most people seem to prefer to pay for the five minute water taxi ride. The walk, while level, is lengthy and under some very direct sunlight.
Once you get downtown, your options are limitless: you can hop amongst the bars on the waterfront. You can cab it to one of the nearby beaches (or over to the French side of the island that prefers the spelling of St. Martin). You can shop (though if you're buying liquor and stopping in St. Maarten, you're also likely stopping in St. Thomas, where the prices are generally $6-$10 lower). You can walk amongst the narrow streets and find a café with good coffee and a decent wifi signal. There are a few hotels with casinos within walking distance. Or you can head over to the Guavaberry Emporium for a colada. St. Maarten is a nice port to just wander around.
As we were walking down the street, we passed near a pack of errant dogs barking at and chasing after passers by. I'm not sure whom or where they belonged to, but we crossed the street over to go around and found ourselves in front of a small café with free wifi. Since I hadn't checked in to anything since Barbados, we ordered a round of iced cappuccinos and sat al fresco with our iPhones.
When my phone connected to the wifi and started loading email messages that totaled into the high hundreds, I made a quick check of Instagram and Facebook and promptly turned my phone back off.
We paid our check and headed down the street to my favorite St. Maarten destination – the Tiffany & Co. store. I collect Tiffany jewelry (a habit Mom started me on when I turned 16 and bought me my first bracelet) and on our second St. Maarten visit, discovered this location while wandering down the street. The prices are slightly lower than US prices and beyond that, you save a decent amount on sales tax (as shopping on the island is duty free). I began saving my purchases for visits to St. Maarten for that reason – sales tax in Chicago is amongst the highest in the country and on any given purchase, I'm saving at least $20 in that alone.
We entered the store and Veronica immediately came to help us. Her name has likely graced this blog before – she assists me in my purchases every time I visit St. Maarten and it still boggles my mind that she remembers us given that our visits are usually a year or more apart.
Veronica was patient as I made my way through multiple displays in the store, trying on various pieces and tempering my indecision until Stephanie forced me to choose. A new bracelet to match the necklace I had purchased on our last visit.
My new bauble was wrapped up in the traditional blue box, with a carefully tied white ribbon. As we were about to leave, Veronica insisted on sending us up to the VIP lounge to relax for a bit. I felt like I was invited into some sort of secret club, an extra bounce in each step as we made our way into an exciting unknown.
Up a flight of non-descript stairs was a decently expansive lounge, painted in (obviously) Tiffany blue. A hostess welcomed us and offered us a drink from the bar (we opted for some bottled water over a libation – it was extraordinarily hot and humid outside) and we settled into the wicker furniture and heavy air conditioning. A large television perched on one of the walls blared a random Food Network show and we logged into the lounge's wifi to check the weather at home and check into our flight for the next afternoon.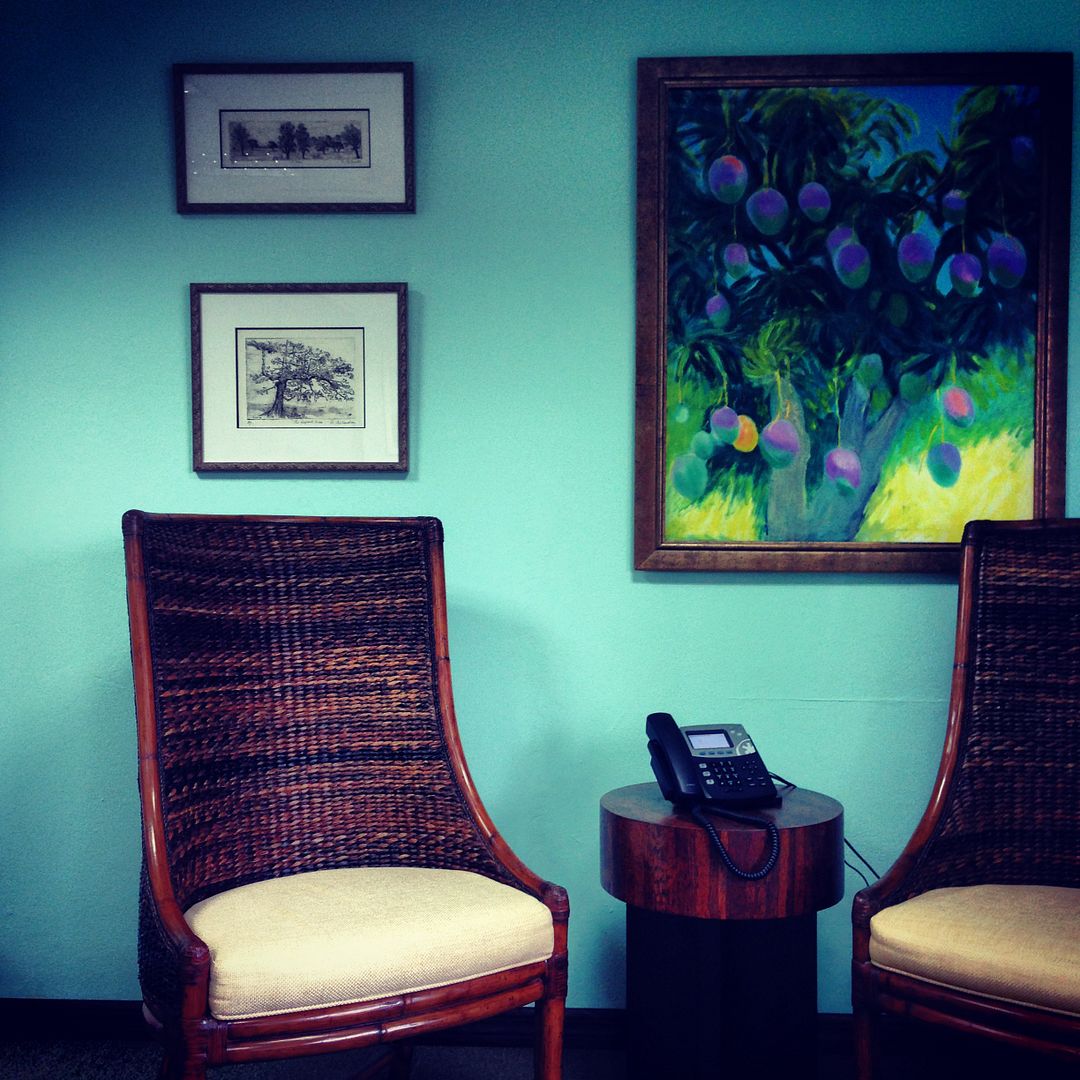 I could have spent the remainder of the entire afternoon there, but Mom and Stephanie were eager to finish our souvenir shopping and get back to the ship. We promised Veronica we'd be back (again) on our next trip and headed towards some of the shops further down the street.
When the humidity got to be too much, we headed back towards the launch to catch the water taxi back to the ship.
There are a few shops beyond the water taxi stand that are a bit hidden, and since we didn't find anything amazing downtown, we perused a few of the shops in the back.
Some small purchases (and an obligatory picture with the St. Maarten sign) later, and we made our way back towards the dock.
On our way to the security check point, we found a small macaroon stand on the pier's edge. Macaroon's are one of my favorite bakery treats, and since St. Maarten is a (half) French island, we couldn't not stop for some. And they were delicious.
We parted ways there – Mom and Stephanie went back to the ship and I went to check just a few more shops for last minute finds (this was our last port, after all). There was a small convenience store nearby that I stopped in to find some Sudafed for Stephanie, only to realize that Sudafed was just about the only thing they didn't carry. My tolerance for the humidity was waning, and so I headed back to meet Mom and Stephanie in the room.
A note on the desk told me to meet Mom and Stephanie at Rosie's and when I got up there…chocolate as far as the eye could see. I forgot about the last day chocolate extravaganza.
The macaroons we had port side really sated my sweet tooth, so I passed on the chocolate (save for a teeny tiny piece of chocolate cheesecake) and opted instead for the BYO taco and nacho bar they had set up in the aft.
Meanwhile, Stephanie stood in line for the Mongolian wok for over a half hour and a server thanked Mom for using the tongs in line. Both of those statements kind of blew my mind a little (a half hour for stir fry? Being thanked for not grabbing stuff with your hands?).
While the rest of the ship were making multiple rounds around the chocolate set up, we headed to the aft pool for some swim time. The water was lukewarm (probably because it was so hot outside), but we had the pool to ourselves so we weren't complaining.
Stephanie and I had carefully plotted out our afternoon: in the pool, out the pool, 20 minutes for dry off and five minutes to get down to the casino for…90's music trivia. Let me explain: my head is full of useless knowledge. Seriously. Pop culture is my strong point, and 90s music is my jam.
Stephanie and I combined our powers and, naturally, we came out victorious. Stephanie likes to think it's because she knew an obscure Shakira song, and I like to think it's because of my knowledge of every musician who sang these songs (Macarena? Los del Rio, baby). And the fact that they used, like, four Backstreet Boys songs and I went through a six year period in between the late 90s and early 2000's where I was convinced that I was going to marry Nick Carter. Seriously. In any case, no one else stood a chance against us.
The trivia sesh was so much fun and the host who ran it just totally rocked it (he and I totally could have jammed out if we knew each other in '97), but there weren't many trivia sessions throughout the week. I came to realize that a large reason for the lack of trivia sessions wasn't a lazy entertainment staff (not completely, anyways), but rather, a large language and cultural divide on the ship. With the Valor home ported in Puerto Rico, a large percentage of the passengers are Puerto Rican. And the cultural differences aside (though many of those differences were highlighted throughout the week), many people we came across on the ship didn't speak English. Both factors would make running any large scale organized activities difficult.
We headed back to the room to meet up with Mom after trivia. She had finished all of her packing and it was our turns now. I had too much procrastination left in me, so I left Stephanie to pack while I sat out on the balcony, gazing out at St. Maarten and marveling at how 24 hours from then, I'd be on an airplane flying back to Chicago.
I took a lap on deck 10 before settling down to pack and passed over the mid ship hot tubs. I don't know how this kind of crowding is fun for anyone. But hey, you're on a cruise. I'll trust there's fun in it somewhere. For someone. Maybe.
When I got back to the room, Stephanie had all but passed out and Mom wouldn't let me leave the room until all my clothes and shoes were packed. I'm really bad with packing. And unpacking. And re-packing.
It got done, though. And we had a quick dinner up on the Lido deck (we've found it a much more relaxing experience our last few cruises) before settling in with Movies Under the Stars. In a fortuitous twist of fate, the Frozen singalong we had missed a few days before was replaying and I was alllllllllllll for it. I ran back to the room to grab the bottle of bubbly we had brought onboard and a few glasses, but Stephanie was riding the Sudafed bus and Mom's not a drinker so it was a more-cheap-pink-champagne-for-me kind of night.
Before the movie started, on a hunch, I ran back to the room to see if my boozy purchases from St. Thomas had been delivered yet, and got back to the room just as the room steward was coming to deliver it. I ran back to the room because I didn't want it sitting out in the hallway (it was a large, expensive purchase) and my hunch was right – I saw a group of teenage boys running down the hallway after I left the room with a few tagged bags of wrapped bottles that may or (more likely) may not have been theirs.
With the contents of my new mini bar safely absconded in our stateroom, I headed back upstairs to catch the opening notes of the movie. After Let It Go, I lost all interest and we headed down to check out the shops and cash out the rest of our on board credit in the casino (OBC is non-refundable, but if you don't use all of yours, you can cash it out via your player bank at the casino). Stephanie played slots and lost and with that, we headed back to the room to finish up our packing.
Knowing that the Legends show fills up early, we headed down a little earlier than we usually do and ended up catching most of powerball Bingo. I guess everyone was trying to hold off for that powerball because the calls went into the 60s and the screen was telling ASD!Stephanie a Bingo existed and no one was calling it.
Meanwhile, I was on a mission to drink an entire 1.5L bottle of water before bed. It sounded like a good idea at the time – super hydrate before a very long flight (you know, flush the system and prevent blood clots) and drink enough water to keep me waking up during the night so I could check for an LTE signal on my phone.
I do dumb shit. Check back in the next installment to find out how I messed myself up with this one.
Meanwhile, the Legends show was okay. Nothing spectacular, nothing awful. Just a decently entertaining show. Oh, and the cruise director announced that the lead singers got engaged backstage. I'm not sure if they really did, or if this was a really obscure bit in the show (I didn't spy a ring…or any discernable chemistry…), but mazels all around.
After the confetti was cleared off the floor and the elevator banks were cleared of hundreds of people with minimal awareness (or consideration) of personal space, we headed back to the room. We skipped the late night grill in favor of room service, Saturday Night Live and some quality time on the balcony.
We were passing pretty closely to some islands that must have been at least decently populated because they were lit.